Purple Vibes YouTube hop and giveaway- "A Fluttering of wings" canvas
Hello there my fav people:)
I am so happy to welcome you to yet another  YouTube hop! This time the theme is Purple Vibes, coz, let's be honest, who does not love purple?:) So what is this hop about apart from being purple? There is 12 of us mixed-media artists who decided to have some fun together and create various projects with different techniques and tips as the inspiration for you and each other. This is our second hop already and that is probably and hopefully just the beginning as, believe me, we are having loads of fun and trying to share as much creative love with you all, as possible:) And bewere- there are GREAT prizes waiting for you!
As for my project this time, well, it's a purple project;) With butterflies:) And it's a canvas. It actually took me a long time to finish it, what with all that drying and glueing and fussy-cutting. This project is also special to me as it is a gift to my dear crafty friend and it was created with that thought in my mind. There is a lot of love which I put into it and I really hope you'll like it:) I am not going to bore you with more details- you'll find the list of products used in my video which is also the full tutorial. Below you'll find some close-ups of my project and link to my YouTube channel. There is also a full list of sponsors for our hop (you can't miss it, it's huge!) and few rules on how to enter the draw:)
SPONSOR'S GIVEAWAYS
To enter the Sponsor's giveaways you have to:
* comment on every one of our 12 videos
* subscribe to all of our 12 channels (unless you are already a subscriber:)
We would appreciate if you tag us or share our videos,  although this is not mandatory at all:)
There is no particular order, you can start by watching any video of your choosing and at the end of each video and in the description box below you'll find the link to the next one. And so on until all 12 videos are watched:)
Ok, that's all for the rules:) Be sure to visit us (our blogs or YT channels) on 28th of June to see if you are the winner:) Once again- good luck!!!
Our generous SPONSORS– thank you all so much!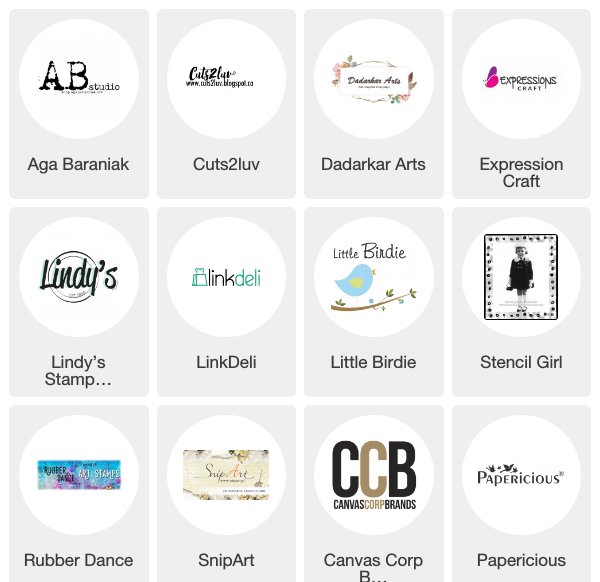 So what are the PRIZES?
Expression Craft: 2 x $25 vouchers
Lindy's Stamp Gang: 2 x $25 vouchers
Little Birdie: 2 x $50 value craft goodies kits + shipping
Cuts2luv: 1 x $15 voucher + shipping
SnipArt: 1 x generous craft goodies kit
Aga Baraniak: 1 x generous craft goodies kit
Rubber Dance: 2 x $20 vouchers
Stencil Girl: 1 x $50 voucher
Dadarkar: 1 x generous craft goodies kit + shipping
Linkdeli: 2 x $20 Paypal vouchers
CCB: 1 x $50 voucher
Papericious: 1 x $15 voucher
As I am the one who actually will be sending away the prize pack from Snip-Art, I am not doing this time personal giveaway, but I will add sth extra from myself for the winner:)
So I think that's it:) You have few good days to play with us and I hope to see you on our YouTube channels:) And you can start here:
https://youtu.be/MJPjmpM7sSk
Links to my friends blogs and channels:
Thank you for all of your support and may the good, purple vibes be with you!!!
Hugs, 
Asia